Praise the LORD! Oh, give
thanks
to the LORD, for He is good! For His mercy endures forever. Psalm 106:1
I'm feeling especially thankful for:
22. Celebration! Tomorrow is my 2 year anniversary to when my Husband & I got betrothed (engaged) & a special friends birthday!
23. Smiles
24. Ice cream (yes, I'm
slightly
addicted to it)
25. A fast approaching vacation to visit dear loved ones
26. Sunshine
27. Morning cuddles
28. Spring around the corner!
29. Memories being retold
30. Health to our loved ones.
31. Prayers going up for special little people and knowing that our One Lord and Savior is listening to us!
Please keep praying for Lucy and her family!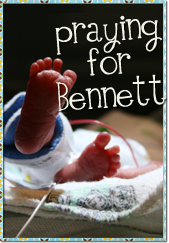 Rejoice in the great things the Lord has done for Bennett and continue to lift him up in your prayers!

What are you thankful for today?

This post is linked to