On those cold mornings these make a fast and easy - not too sweet - tasty breakfast! Going perfectly with a warm cup of tea. Best part of this recipe is how much these turn out like 'regular' cinnamon rolls without all the time needed to make them! :) That's a *big* plus for me as the 'morning person' in me is gone after becoming a Mommy! :)
Quick Cinnamon Biscuits
Makes: 1 dozen
2 1/2 cups flour
1 tablespoon baking powder
1/2 teaspoon salt
1/2 cup shortening
1 cup milk
1/4 cup butter
1/4 cup dark brown sugar
1 to 2 teaspoons cinnamon
cinnamon/sugar for topping
1/2 cup powdered sugar
1 tablespoon milk

Blend dry ingredients. Cut in shortening. Add milk. Roll out and spread with butter, cinnamon, and sugar. Roll up and slice. Place in two, round greased baking pans. Sprinkle with cinnamon sugar. Bake at 450° for 15 minutes. Blend sugar and milk for glaze and pour over warm biscuits. Enjoy!
I hope you enjoy these if you try them and leave a comment! :)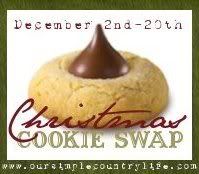 Join the fun over at Our Simple Country Life!